81 Media International has served the broadcast & education market for the past 25 years.
We are hired regularly by TV booking agencies like The Crew Connection, Crews Control, and The Assignment Desk. These agencies hire local TV Production companies, like ours, to work locally with visiting assignment producers from various network shows, as well as marketing executives from corporate communication offices nationwide. 81 Media International typically provides an HD camera and sound crew.
Clients also hire us to provide educational and documentary programming. These shows are typically intended for promotion and support of private foundations and global causes.
Recent and past Broadcast and Education clients have included CSPAN-TV, Inside Edition, NBA Entertainment, Crew Connection, Crews Control, The Assignment Desk, Comcast Media Center, and Educator's Choice.
TV projects have ranged from:
Political commercials like Doug Linkhart for Mayor,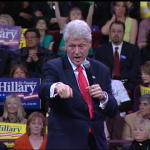 coverage of the Democratic National Convention
Documentary programs like "I Can Change the World", "The Aconcagua Man Project", Conflict Management Group, and "Gold Mining in Ecuador"
Outdoors adventure shows like "Fly Fishing Frontiers", Canada; The Dusty Baker Bone Fishing Classic", Bahamas; "The 4th World Whitewater Rafting Championships, Choruh River, Turkey; "Today's Hunter on The Outdoor Channel" (29 episode Hunting Series)
Educator's Choice, provider of educational videos to schools nationwide, contracted 81 Media International to produce 86 Internet Education shows and 16 Teen Awareness and Empowerment shows. We provided casting, set design, in-Studio production, and final program editing.